I n our area, Susan Morehouse is one of Rochester, New York's most popular harpists. Her music brings a unique atmosphere to any occasion, whether it's a wedding service, reception, special event, anniversary, corporate function, private celebration, dedication, or dinner party and lends itself to many settings either as gentle background music or showcased as a performance.
Contact Susan today to talk about your wedding or event. She loves working with people and will help make your day really shine!
About me
I started playing the harp as an adult after enjoying the piano for much of my life. It opened up a whole new world of music for me in a remarkable way.
The harp so easily becomes a part of you as you play, cradling it in your arms, touching the strings, and sensing every vibration. As a Christian musician I soon found that harping became a place of worship and a place to bless others with my music and "Harpsongs" was born!"
About my music
I always desire to bring a touch of God's peace and joy to those I play for.
I'm often told my music is very relaxing and restful. It gives me great pleasure to play out in the community, whether at a wedding, reception, church, funeral, party in an adult home, or for the terminally ill.
I'm grateful for the time I spent studying with others during my early formative years. I greatly admire my teachers' skill and ability at the harp and hope I am able to pass on some of what I've received to the students who are now coming to my home. I'd love to have an opportunity to play for you soon…
Susan Morehouse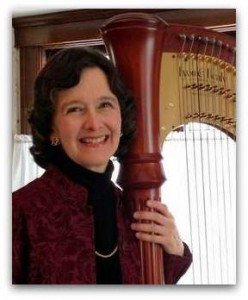 "And Mary took a pound of costly ointment of pure nard and anointed the feet of Jesus and wiped His feet with her hair; and the house was filled with the fragrance of the ointment." (John 12:3)
"For we are the aroma of Christ to God." (2 Corinthians 2:15)