Are you thinking, dreaming, hoping and planning to have a memorable, perhaps even an enchanted event? No matter what your special occasion might be, my harp music always creates an elegant yet personal and intimate atmosphere.
The harp brings a unique atmosphere to any occasion, whether it's a wedding, anniversary, reception, dedication, or dinner party. Harp music lends itself to many settings either as gentle background music or showcased as a performance.
Weddings
There is no more joyous time in a couple's lives than their wedding day.
On your wedding day, I arrive an hour early to set up and tune. My prelude music gracefully welcomes your guests during the half hour before the ceremony. Coordinating carefully with your plans, I play mother's seating music, processional piece(s) for the wedding party and Bride, any piece from my repertoire during the ceremony, and the recessional piece.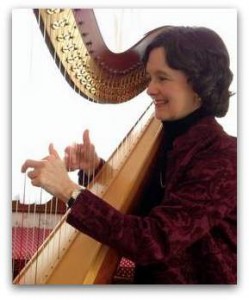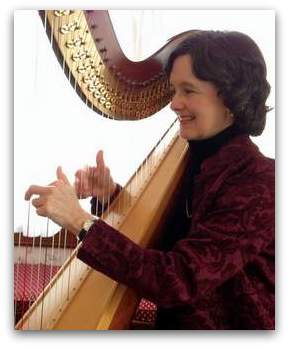 While your guests are chatting and dispersing after the ceremony, I provide an additional half hour of postlude music, bringing a beautiful wedding to a close. If this sounds like the kind of experience you're looking for, contact me soon so we can follow through together. It would be a joy and privilege for me to play for your wedding.
After we've communicated by phone or email and you've decided to have me play for your wedding, I would invite you to meet with me in my home about a month before the wedding for an hour or so to select processional and recessional music. It's helpful to meet you ahead of time so I can tailor my performance to your taste.
My cost for the wedding package is $300, and a $50 deposit (deducted from the total) holds the date. If you would like me to stay and play for a cocktail reception or dinner, I charge an additional $125 per hour plus a small travel fee if the reception is in a different location that involves transporting my harp. If I need to travel to the wedding more than 45 minutes one way, I may need to be reimbursed for my travel costs as well. A copy of one of my CDs is a gift for you. If you have questions please feel free to ask. I want you to be confident about the decision you make.
Note: Because of the delicate nature of my instrument, I must be guaranteed cover in the event of rain and cannot play outdoors below 55 degrees.
Other Special Occasions
I enjoy bringing the beauty of the harp to churches, country clubs, banquet halls, senior facilities or even your own living room.
I find the harp offers a wonderful opportunity to add something sensitive and beautiful to very special times in people's lives. I count it a privilege and honor to be called upon to play for such personal occasions. My repertoire includes a mix of familiar classical, folk and Celtic music, hymns and carols. Look on the song list for specific pieces. My rate for background music is $125 per hour. I am happy to give you a quote for your special occasion.
Programs and performances
I have a number of fun, interesting 1-hour programs that are especially suited for senior facilities. Click here for a current list of available themes and topics. All programs cost $100.
Funerals
When you have lost someone you love, the calming and comforting sound of the harp can be a real treasure. I try to be sensitive to the needs of the family and melt into the background bringing a gentle atmosphere for the visiting hours or services. Most funeral directors wish I was invited to play more often. My hourly rate remains at $125 per hour with travel remuneration beyond 45 minutes one way.
Brochure
Click here if you would like to print a PDF color brochure of my services to share with others.
Listing