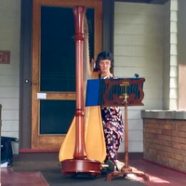 Susan plays on her porch!
On Saturday afternoon, September 23rd the 19th Ward Community Organization will be sponsoring its annual Porch Fest again, showcasing the musical talent of the neighborhood.
Take a walk around the block and hear some of our local musicians playing live performances on their porches. Susan will be one of the musicians again this year, performing on the front porch at home, 374 Wellington Avenue. Keep an eye out at the 19WCA website for updates on who else will be performing and on which streets!
Here's a view from her last appearance: