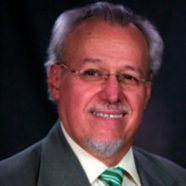 Keuka College president in concert
Dr. Jorge Diaz-Herrera promised a sound audiences "have probably never heard before" at his recent concert in Geneseo on March 26 featuring the Venezuelan Harp.
"There are several types of harps in Latin America, but they are all basically the same … its sound is bright and very rhythmic," said Diaz-Herrera, who started playing the Venezuelan harp as a young teenager in his native Barquisimeto, Venezuela, and says that performing is his therapy.
Diaz-Herrera, who is also the president of Keuka College, presented an afternoon of traditional South American music as part of a GLOW Traditions program March 26 at the Geneseo Riviera, 4 Center Street in Geneseo. The concert, presented by Livingston Arts, started at 3 pm after a 2 pm talk on the "History of the Harp in South America."
Diaz-Herrera performed on the Arpa Llanera, or Venezuelan Harp and featured the music of the Colombian-Venezuelan plains (Los Llanos Colombo-Venezolanos), where the harp takes a leading role.
Click here to read a longer article about Dr. Diaz-Herrera's avocation in the Livingston County News.